Jan Dobkowski, Gelitin, Tomasz Kowalski, Agnieszka Polska, Piotr Urbaniec
Escape and Return
01.01—14.02.2015
Of all the modern, designer, as they say, drugs I liked 25-i the most. The first effect of the substance was an extremely strong need to bond with household objects, still, I'm surrounded by them every day. Nothing has changed in colors and impressions, but at some point I noticed that the glove, which I use to raise the boiling water, looks at me ironically and with disgust. The glove has nothing resembling an eye, however that look was very clear and extremely unfavorable to me. Was it about the introduction of substances hazardous to health into the calm of home? Or maybe it was about something more, about my whole way of life, with too little attention that I offer to the idea of taking care of the space? Anyway, the glove did not approve of something. I was increasingly ashamed, I might have possibly started apologising for everything had it not been for the arrival of these hallucinations, traveling amongst the colors, and I just didn't want to think about it anymore. But even today, our relationship remains ambiguous.
Or another thing: wild ferns grow in my garden. I don't cultivate them, but being exceptionally strong, they are able to survive both my negligence and bad weather conditions. Something tells me to take them into account to the extent that some of the time I have to high five them; confirm our closeness and mutual respect. It is not an obsessive compulsive disorder, nor a mental illness. I know they are only ferns, and the rest is a product of the imagination, but I like this ritual of our own.
I try to go out sometimes, but it just doesn't work for me. Two fat guys started a fight. This was just one of the reasons why I left the party in the apartment at Hoża street. Taxi "Glob" was already waiting, but some girl hysterically ran out of the building and got into my taxi all in tears. I let her go and right after I regretted, because it started to rain. At that moment, a car stopped in front of me; somebody opened a window on the passenger side and asked if I need a ride. I was going to refuse of course, but in the light of the street lamp I examined the driver and saw that it was a well-known comedian Bohdan Smoleń*. I thought it might be interesting, so I sat in the front. Off we go. Smoleń drove very badly, slowly and he kept talking, jokingly referring to the names of the streets we passed. "The Agreement street? ok I agree to turn!". He twisted words in an unfunny way and to top it all he played Eska radio very loudly. It all started to piss me off terribly, but I thought that anyway I'm having a complimentary ride and maybe I'll manage to survive till Żoliborz.
But to my surprise Smoleń suddenly began stopping the car violently and descend almost to the sidewalk, where two beggars, or in any case, poorly-looking men on crutches were standing and who were just drinking vodka, straight from the bottle. "We're getting off" said Smoleń and I did not argue. He approached the stuggering cripples and began to say something in an undertone. They scattered, as far as the crutches allowed and also said something. I walked closer and realized that Smoleń is just casually stealing their money and phones. I ran scared to stop him, but he shouted at me: "Stand back, doll," and further terrorized them. I started running blindly down the street, but then I realized that I left my fox hat in the car. I like it very much, so I went back. Smoleń has just finished with the beggars and said that now he'll drive me home. Being too tired, I agreed. We remain silent all the way, only Eska radio was on, and I did not have the courage to ask about that incident.
*http://pl.wikipedia.org/wiki/Bohdan_Smoleń
Maria Kozłowska
Piotr Urbaniec
Untitled
2014
video HD
13 min
Piotr Urbaniec
Untitled
2014
video HD
13 min
Agnieszka Polska
First experiment with artifical light
2013
video HD
3 min
Agnieszka Polska
First experiment with artifical light
2013
video HD
3 min
Tomasz Kowalski
Untitled
2014
acrylic on canvas
Tomasz Kowalski
Untitled
2014
acrylic on canvas
Jan Dobkowski
Documentation of multi-dimensional installation "Extension of summer"
on the roof of a building at Chłodna 11 (phot. Andrzej Rybczyński)
1970
photograph
Jan Dobkowski
Documentation of multi-dimensional installation "Extension of summer"
on the roof of a building at Chłodna 11 (phot. Andrzej Rybczyński)
1970
photograph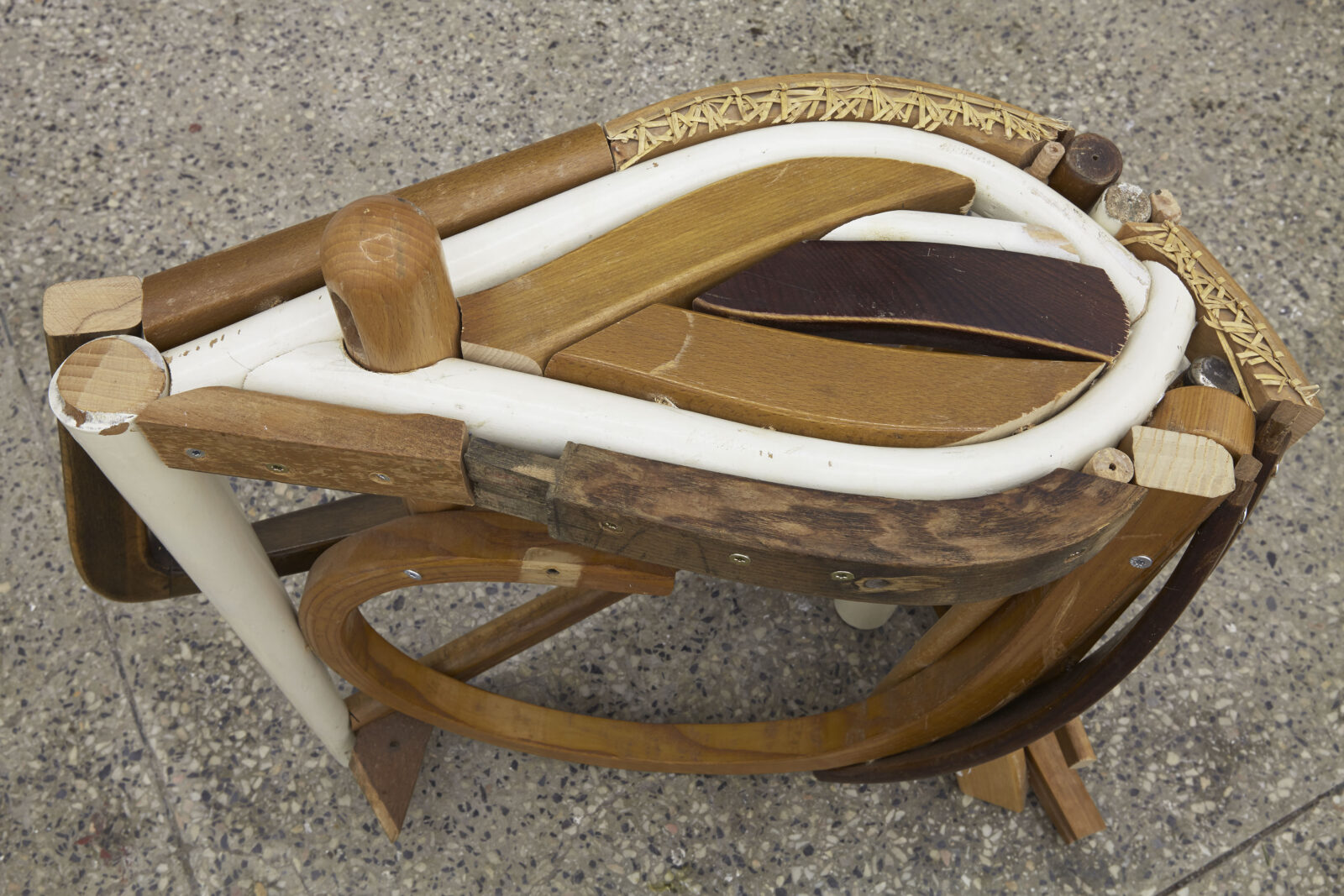 Gelitin
Bianka
2011
object
Gelitin
Bianka
2011
object