Birgit Megerle, Marcin Zarzeka
Full Moon
15.02—10.03.2013
Inaugural exhibition at Dawid Radziszewski Gallery
"He who has two women loses his soul. He who has two houses loses his mind." – these words of Eric Rohmer begin his film "Full Moon in Paris" ("Les nuits de la pleine lune",1984). The Polish meaning of the phrase "full moon" (Pełnia) is twofold, on the one hand it is a clean geometric form existing in nature, while on the other the period of abundance and blooming.
At first glance the work of Marcin Zarzeka and Brigit Megerle are two inconsistent poetics. The geometrically organized spaces created by Marcin contrast with Birgit's full compositions, taking into account the coincidence of their structure.
Megerle and Zarzeka share a passion for French cinema, especially the works of Eric Rohmer. His subtle love stories are both strict and sober. "Full Moon in Paris" is a story of lovers who are unable to meet (both mentally and physically) as they circle different orbits. Louise and Remi travel various spaces: a modern shared apartment in the suburbs with an interior consisting of primary colors in which the walls are filled with reproductions of Mondrian's works, as well as in rooms, bars, and other places so specific to Paris. Megerle's works combine painting and everyday objects whereas Zarzeka's compositions are fixed with tape. In the moonlight colors do not exist.
Marcin Zarzeka's "Playgrounds" portray the relationship between forms as a masterminded game. His elegant and transparent objects are created with simple but carefully selected materials such as adhesive tape, foam board, and glass. The medium of information, construction, and frame is one. Deriving from Piet Mondrian's paintings, Zarzeka's black-and-white compositions have an even more reduced, simplified form based on the simple logic of surface divisions relating to one another. Individual fields may present a floor plan, an outline, cities, or just ground on which a figure moves according to specific rules. The edges of the cut glass surfaces enhance the divisions of the foam boards. Marcin builds a display, a type of window and stage for the theater of shadows, which varies depending on the time of day and location of the object in the gallery.
The dominance of coincidence in the new – and remaining monochromatic – works of Brigit Megerle is still clearly present. The painter is known for her curiously stylized personas presented on the stage. People depicted in her works exist atemporally. Only the scenery of fashionable places places them in the present. In Warsaw, Megerle presents a more experimental painting of objects that simultaneously belongs to her figurative work. Their form is reminiscent of feminist assemblages and photographs of everyday objects by Bela Kolarova, that emerged from the Nineteen-sixties. However, in the case of Megerle, painting is the tool. Going loosely over the edge of the picture's surface objects and templates, the artist paints in the alla prima technique. Ubiquitous hangers, chains, nets, laces, irons and other items in the works are more technical rather than feminine. Corkscrews, for example may be combat helicopters in a science-fiction landscape.
Text: Anette Freudenberger
Marcin Zarzeka
Playground Love
2013
foamboard, double-sided tape, glass
60 × 60 × 4 cm
Marcin Zarzeka
Playground Love
2013
foamboard, double-sided tape, glass
60 × 60 × 4 cm
Birgit Megerle
Hundespur
80 × 95 cm
gouache on canvas
2013
Birgit Megerle
Hundespur
80 × 95 cm
gouache on canvas
2013
Marcin Zarzeka
Milchbar (Playground series)
2013
foamboard, double-sided tape, glass
70 × 70 × 7,5 cm
Marcin Zarzeka
Milchbar (Playground series)
2013
foamboard, double-sided tape, glass
70 × 70 × 7,5 cm
Birgit Megerle
Apocalypso
2013
gouache and spray paint on canvas
80 × 100 cm
Birgit Megerle
Apocalypso
2013
gouache and spray paint on canvas
80 × 100 cm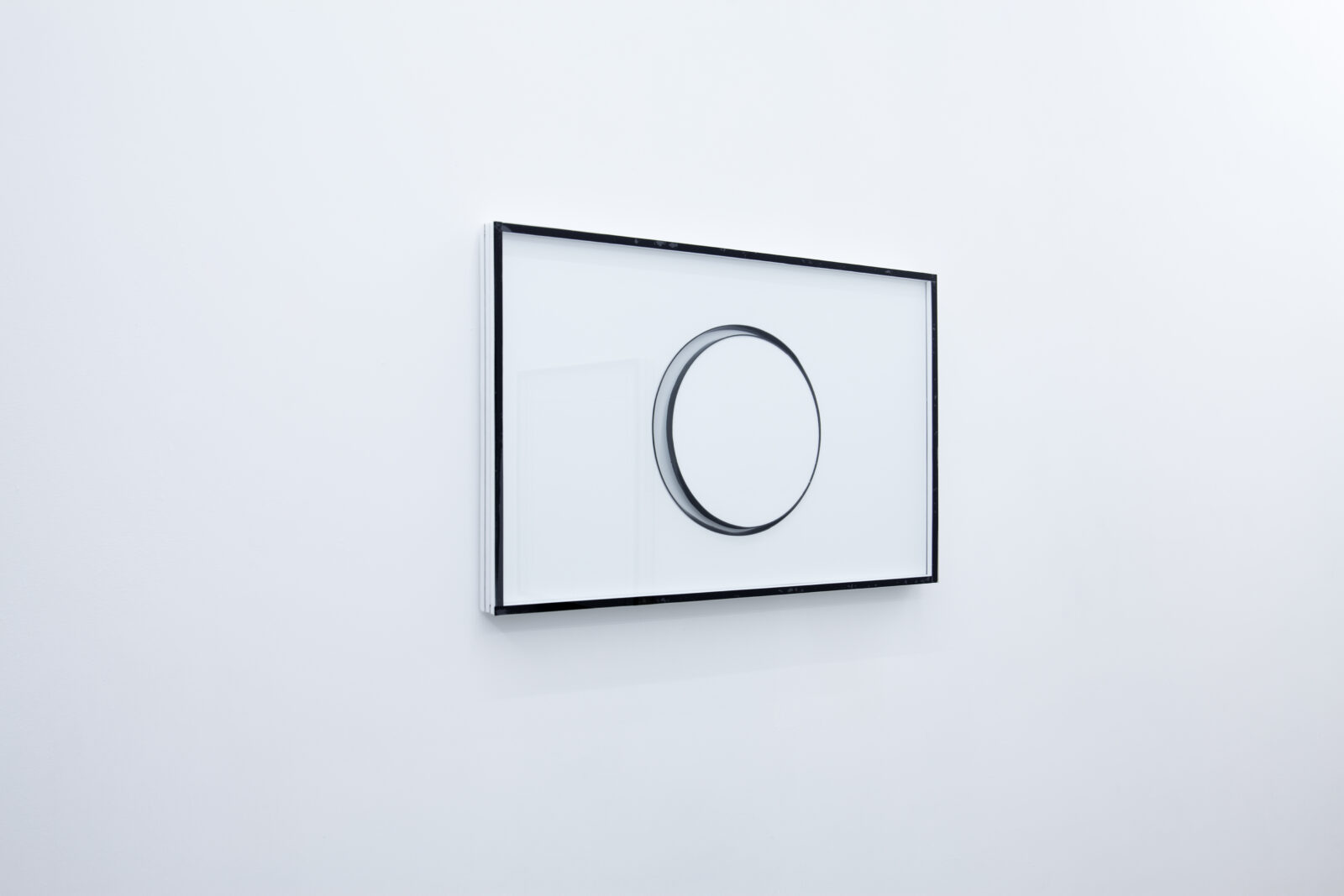 Marcin Zarzeka
Eclipse
2013
foam board, double-sided tape, glass
68,5 × 43,5 × 3,5 cm
Marcin Zarzeka
Eclipse
2013
foam board, double-sided tape, glass
68,5 × 43,5 × 3,5 cm
Birgit Megerle
Eintritt erst ab 18
2013
gouache, acryllic and spray paint on canvas
80 × 110 cm
Birgit Megerle
Eintritt erst ab 18
2013
gouache, acryllic and spray paint on canvas
80 × 110 cm