Şerban Savu
Mănăştur
18.12.2015—30.01.2016
The monotonous landscape of the Romanian province, unfriendly industrial architecture and human figures lost in that space – ordinary, common, as if devoid of individual character. The world seen through the eyes of Şerban Savu probably will not surprise anyone who has ever boarded a train and travelled through Poland. However, in this homeliness there is something so meaningful that it does not leave the viewer in a calm state. His paintings do not dazzle with irony that would allow it to easily cut off from the reality, which they present. One would like to say that everything in them is true, although paradoxically a surreal atmosphere accompanies those scenes, perhaps because they relate to the world, which in itself is unlikely?
The years of Şerban Savu's youth shall cover the period of rapid political and economic changes in Central and Eastern Europe. In 1989, when in Romania the regime of Nicolae Ceaușescu was overthrown in a bloody manner, Savu was 11 years old. He received his artistic education at the University of Arts in Cluj-Napoca, where he studied with artists such as Victor Man and Adrian Ghenie. Shortly after, their work was included in the new wave of Romanian painting, known as "School of Cluj".
What distinguishes Savu from his colleagues is his realistic style and para-documentary knack. However, the realism of his paintings has little in common with socrealistic doctrine, which in the past was prominent in Romanian art. Crucial for him is the classic tradition of European painting, particularly Italian and French. In Savu's works, we see echoes of Leon Battista Alberti's assumptions, idyllic landscapes of Poussin and Lorrain, and finally depictions of peasants by Pieter Bruegel and Jean-Frainçois Millet. These inspirations set in contemporary Romanian landscape became part of a melancholic tale of a fallen empire somewhere on the borders of the civilized world. In this way, Savu refers to a significant myth of Romanian identity: Romania was one of the outermost Roman colony and its citizens as lonely heirs of the classical culture.
However, the residents of this half-fantastic land are not noble patricians, but ordinary workers, erstwhile peasants. They indeed are the legitimate heirs to the legacy of the previous era, important symbol of which was the "New Man" – a modern creature, plucked from the agrarian order and set in a modernized, industrial context. Savu's recent works exhibited in Dawid Radziszewski Gallery are inspired by the realities of the Mănăştur – working-class district of Cluj-Napoca. People filling its streets and backyards are not positive examples of "New People". In their life there is nothing heroic. They are no longer accompanied by the elevated, propagandist narration. Their days are filled with moderately heavy workers toil. The only alternative may be a break, rest or wilful inaction – important topics in the works of Savu. In this commonly granting celebration of idleness, involuntary heroes of those scenes are closest to their rural ancestors, unwilling to work serfdom and lingering in taverns. So someone will lazily scratch on the buttock and someone will light another cigarette; nobody wants anything. The atmosphere of boredom is dominant in the paintings, although this indicates the banality of the reality presented by him, it also can be seen as a perverse reaction to the modernist discipline. The reality, in which you must run and increase the pace of action, Savu's heroes freeze motionless and quietly last, incidentally resembling their rural ancestors. Meanwhile, the dog howls in the distance, probably thinking about a bitch in the neighbourhood or delicacies in the trash. In one of the buildings, a conservator found the old propagandist mural. He wants to renew it and enter it into the register of monuments. But actually why?
text: Karolina Plinta
Şerban Savu
Meeting
2015
oil on board
59 × 59 cm
Şerban Savu
Meeting
2015
oil on board
59 × 59 cm
Şerban Savu
Water Tower
2015
oil on board
26,5 × 48 cm
Şerban Savu
Water Tower
2015
oil on board
26,5 × 48 cm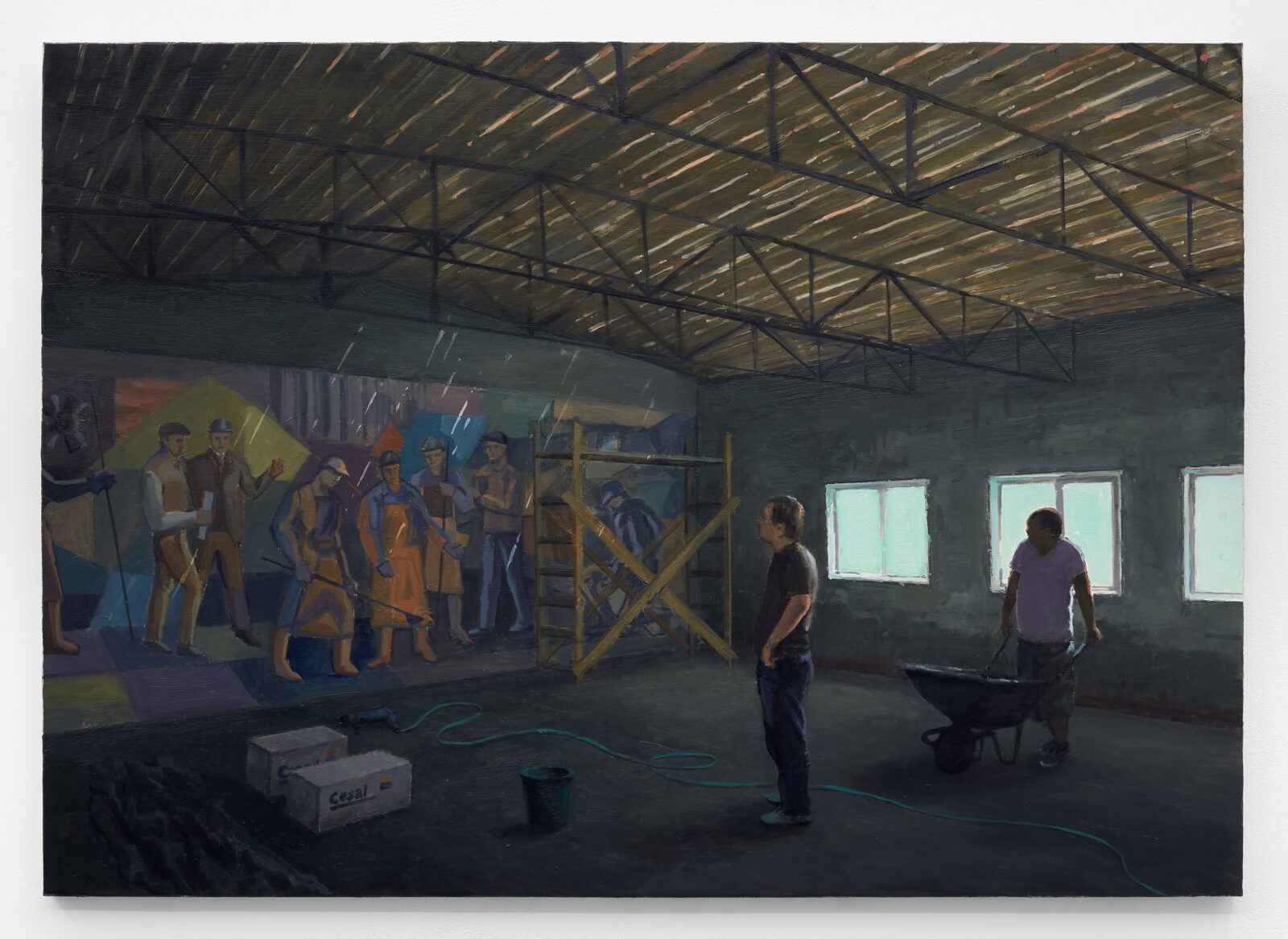 Şerban Savu
Steelworkers
2015
oil on board
47 × 66,5 cm
Şerban Savu
Steelworkers
2015
oil on board
47 × 66,5 cm
Şerban Savu
In the Shadow of the Walnut Tree
2015
oil on board
70 × 85,5 cm
Şerban Savu
In the Shadow of the Walnut Tree
2015
oil on board
70 × 85,5 cm
Şerban Savu
Napolact
oil on board
37 × 48 cm
Şerban Savu
Napolact
oil on board
37 × 48 cm