Tomasz Kowalski was born in 1984 in Szczebrzeszyn. Studied painting at the Academy of Fine Arts in Kraków (2004-2009). He is the winner of the Guerlain Foundation Drawing Award (2014).
His paintings, sculptures and music capture the diffusion of a centreless world and the ways in which such conditions impact our perceptions of basic categories, such as selfhood, space and time. His works suggest a conception of society where sleep, introspection, dreaming and wakefulness are equally present. They assert the unconscious as a liberating force – at once in and out of this world.
Works and lives in Warsaw.
Works in collections
Centre Pompidou, Paris, FR
MUMOK – Museum Moderner Kunst Stiftung Ludwig, Vienna, AT
Frac des Pays de la Loire, Nantes, FR
Olbricht Collection, Berlin, DE
Boros Collection, Berlin, DE
MOCAK – Museum for Contemporary Art in Kraków, PL
The ING Polish Art Foundation Collection, Warsaw, PL
Tomasz Kowalski
Untitled
2021
gouache on paper
30 × 43 cm
Tomasz Kowalski
Untitled
2021
gouache on paper
30 × 43 cm
Tomasz Kowalski
Untitled
2021
gouache on paper
43 × 30 cm
Tomasz Kowalski
Untitled
2021
gouache on paper
43 × 30 cm
Tomasz Kowalski
Untitled
2021
gouache on paper
43 × 30 cm
Tomasz Kowalski
Untitled
2021
gouache on paper
43 × 30 cm
Tomasz Kowalski
Untitled
2021
gouache on paper
30 × 43 cm
Tomasz Kowalski
Untitled
2021
gouache on paper
30 × 43 cm
Tomasz Kowalski
Untitled (Safe)
2019
oil on dyed canvas
64 × 50 cm
Tomasz Kowalski
Untitled (Safe)
2019
oil on dyed canvas
64 × 50 cm
Tomasz Kowalski
Untitled (Safe), back detail
2019
oil on dyed canvas
64 × 50 cm
Tomasz Kowalski
Untitled (Safe), back detail
2019
oil on dyed canvas
64 × 50 cm
Tomasz Kowalski
Crypto Rap
2019
oil on canvas
200 × 120 cm
Tomasz Kowalski
Crypto Rap
2019
oil on canvas
200 × 120 cm
Tomasz Kowalski
Untitled
2019
acrylic on canvas
165 × 115 cm
Tomasz Kowalski
Untitled
2019
acrylic on canvas
165 × 115 cm
Tomasz Kowalski, Alicja Kowalska
Untitled
2018
tapestry
180 × 125 cm
Tomasz Kowalski, Alicja Kowalska
Untitled
2018
tapestry
180 × 125 cm
Alicja Kowalska / Tomasz Kowalski
Untitled
2017
tapestry
177 × 144 cm
Alicja Kowalska / Tomasz Kowalski
Untitled
2017
tapestry
177 × 144 cm
Tomasz Kowalski
Untitled
2016
oil on canvas
150 × 130 cm
Tomasz Kowalski
Untitled
2016
oil on canvas
150 × 130 cm
Tomasz Kowalski
BBAARR
2014
steel, metal paint
223 × 220 × 3 cm
ed. of 2
Tomasz Kowalski
BBAARR
2014
steel, metal paint
223 × 220 × 3 cm
ed. of 2
Tomasz Kowalski
Handcuffs
2014
steel
154 × 107 × 5 cm
Tomasz Kowalski
Handcuffs
2014
steel
154 × 107 × 5 cm
Tomasz Kowalski
Telephone
2013
oil, acrylic, spray on canvas
120 x 105 cm
Tomasz Kowalski
Telephone
2013
oil, acrylic, spray on canvas
120 x 105 cm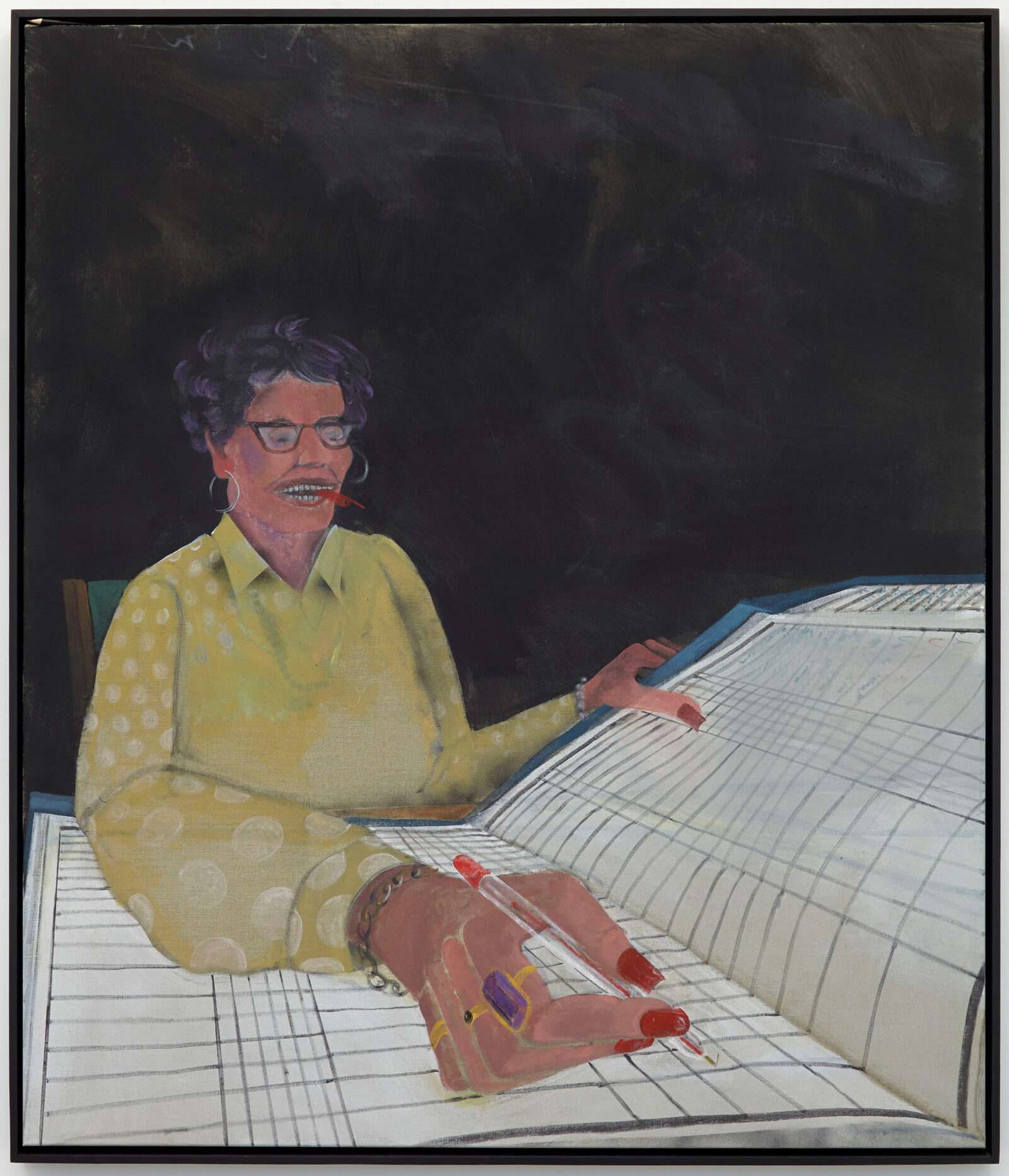 Tomasz Kowalski
no title (F)
2013
oil, acrylic, spray on canvas
Tomasz Kowalski
no title (F)
2013
oil, acrylic, spray on canvas
Tomasz Kowalski
Untitled (leg)
2013
oil, acrylic, spray on canvas
160 × 130 cm
Tomasz Kowalski
Untitled (leg)
2013
oil, acrylic, spray on canvas
160 × 130 cm
solo exhibitions
2021
15 Orient, New York, US
Foam City, Swallow, Vilnius, LT
Delirious Szczebrzeszyn, Dawid Radziszewski, Warsaw, PL
2020
Ghost, Actor, Thing, Dawid Radziszewski, Warsaw, PL
2018
Release of Everlasting Somersault, Nino Mier Gallery, Los Angeles, US
New Vehicle, Galerie Tobias Naehring, Leibzig, DE
Proto Weather, Tim Van Laere Gallery, Antwerp, BE
Natty Dread (with Alicja Kowalska), Condo, Arcadia Missa, London, UK
2017
A Man Moves Out of a Skeleton, Clark House Initiative, Mumbai, IN
Golden Ladder, Dawid Radziszewski, Warsaw, PL
Eliksir / Myriad Examples, Bureau Audio, New York, NY, US
2015
Djinn, Tim Van Laere Gallery, Antwerp, BE
Planck Time, carlier | gebauer, Berlin, DE
2014
Tomasz Kowalski, CAM, Contemporary Art Museum St. Louis (MO), US
Relativity Express, Gabriele Senn Galerie, Wien, AT
2013
Paintings and Assemblages, Dawid Radziszewski, Warsaw, PL
Untitled, carlier | gebauer, Berlin, DE
2012
The Truant, carlier | gebauer, Berlin, DE
Routine investigation, Tim Van Laere Gallery, Antwerp, BE
2011
A chimney sweeper on the church roof, Ujazdowski Castle Centre for Contemporary Art, Warsaw, PL
Duet (with Agnieszka Polska), Goldex Poldex, Krakow, PL
2010
Sen, Gabriele Senn Galerie, Vienna, AT
Powrót przodka, Tim Van Laere Gallery, Antwerp, BE
Pokaz, Kronika Gallery, Bytom, PL
2009
Nightseeing (feat. Norman Leto), Centre of Contemporary Art Znaki Czasu, Torun, PL
Gniazdo, Kunstlerhaus Bethanien, Berlin, DE
carlier | gebauer, Berlin, DE
2008
Art Kabinett, Art Basel Miami Beach, Miami, FL, US, carlier | gebauer, Berlin, DE
Piosenka, Pies Gallery, Poznan, PL
BWA Zielona Gora, Zielona Gora, PL
2007
2006
Człowiek bez właściwości, Nova Gallery, Kraków, PL
group exhibitions
2021
Baltic Triennial 14 "The Endless Frontier", CAC Vilnius, LT
Galerie Barbara Thumm, Berlin, DE
Konteksty: Kongres Postartystyczny, Sokołowsko, PL
2020
5 Year Anniversary, Nino Mier, Los Angeles, US
Enjoy and Take Care!, Tim Van Laere Gallery, Antwerp, BE
In Exile, Huis Henk Visch, Eindhoven, NL
Duch natury i inne bajki. 20-lecie Fundacji Sztuki Polskiej ING, Silesian Museum, Katowice, PL
Entertainment Through Absence, Gabriele Senn Galerie, Vienna, AT
2019
Views 2019 Deutche Bank Award, Zacheta – National Gallery of Art, Warsaw, PL
Drowning in a Sea of Data, La Casa Encendida, Madrid, ES
Rock Paper Scissors, Gabriele Senn Galerie, Vienna, AT
The Last Waltz (For Leon), Tim Van Laere Gallery, Antwerp, BE
2018
Autofictions, Wilhelm Hack Museum, Ludwigshafen, DE
Ordination, organized by Sophie Tappeiner, Vienna, AT
Bureau_Audio hour, Mathew Gallery, New York, US
Fool's prophecy, Museum of Icons – Museum of the Warsaw Orthodox Metropolis, Warsaw, PL
Weeping, Dreaming, Fucking, Laughing, Wschód Gallery, Warsaw, PL
Wild At Heart, Zachęta – National Art Gallery, Warsaw, PL
One Long Changing Body, carlier | gebauer, Berlin, DE
2017
The tenth anniversary of the Contemporary Drawing Prize of the Fondation d'art contemporain Daniel & Florence Guerlain, Centre Pompidou, Paris, FR
In Paper We Trust, The Dot Project, London, UK
2016
Szalona Galeria, Museum of Modern Art in Warsaw, PL
Parallel Vienna 2016 – Parallel Vienna, Vienna, AT
Objects Do Things, Ujazdowski Castle Centre for Contemporary Art, Warsaw, PL
2015
Very Long Fingers, Simone Subal Gallery, New York, US
Procedures for The Head, Kunsthalle Bratislava, Bratislava, SK
I hear your voice reflected in a glass and it sounds like it is inside of me, carlier | gebauer, Berlin, DE
For Me Abstraction is Real, Boccanera Arte Contemporanea, Trento, IT
Run For The Roses, Tim Van Laere Gallery, Antwerp, BE
Escape and Return, Dawid Radziszewski, Warsaw, PL
2014
Painting, Poetry, Pottery, Tobias Naehring Galerie, Leipzig, DE
Gelatin: Paint Me, Paint Me Everywhere, Contemporary Art Gallery Bunkier Sztuki, Krakow, PL
The Night of the Great Season, La Kunsthalle Mulhouse, Moulhouse Cedex, FR
As You Can See: Polish Art Today, Museum of Modern Art in Warsaw, PL
Hoch Hinaus!, Museum Neuer Wiener Kunstverein, Vienna, AT
The Lamp of Memory, Valentines Mansion, London, UK
2013
British British Polish Polish. Art from Europe's Edges in the long 90s and Today, Ujazdowski Castle Centre for Contemporary Art, Warsaw, PL
Everything and More, Tim Van Laere Gallery, Antwerp, BE
Yellowing of the Lunar Consciousness, Galleria Massimodeluca, Venice, IT
2012
Soundworks, ICA, London, UK
The Castle in the Air. Séance of Imagination, Zamek Culture Centre, Poznan, PL
Circus as a Parallel Universe, Kunsthalle Wien, Vienna, AT
Air de Pologne, De Garage, Mechelen, BE
2011
Genius Without Talent, De Appel, Amsterdam, NL
Museum der Wunsche/Museum of Desires, MUMOK – Museum Moderner Kunst Stiftung Ludwig, Vienna, AT
Acquisitions récentes : D'Antonin Artaud à Tatiana Trouvé, Centre Georges Pompidou, Paris, FR
2010
Hareng Saur: Ensor and Contemporary Art, S.M.A.K. Ghent, BE
Public Private Painting, Mu.ZEE, Oostende, BE
In Dreams, Timothy Taylor Gallery, London, UK
Przeklenstwa Wyobrazni/The Curse of Imagination, Contemporary Art Gallery Bunkier Sztuki, Krakow, PL
Small Improvisation, Stadtgalerie Kiel, Kiel, DE
Passion Fruits, Sammlung Olbricht, me Collectors Room Berlin, Berlin, DE
2009
Le Coeur est un Chasseur Solitaire, Gare Saint-Sauver, Lille, FR
Crotla presents, Lothringer13, Stadtische Kunsthalle München, Munich, DE
Blue Almost White, ING Polish Arts Foundation/Leto Gallery, Warsaw, PL
Hell of things, Kronika Gallery, Bytom, PL
2008
Ballady i Romanse, Raster Gallery, Warsaw, PL
Establishment (and its discontents), Center for Contemporary Art, Ujazdowski Castle Centre for Contemporary Art, Warsaw, PL
Wyprzedaz Teatru, BWA Arsenal, Bialystok, PL
2007
The Ship of Fools, Studio Angeletti, Rome, IT
Small is Beautiful, Ursula Blickle Foundation, Kraichtal Unterowisheim, DE
16 things, which may have not been found, Artpol, Krakow, PL